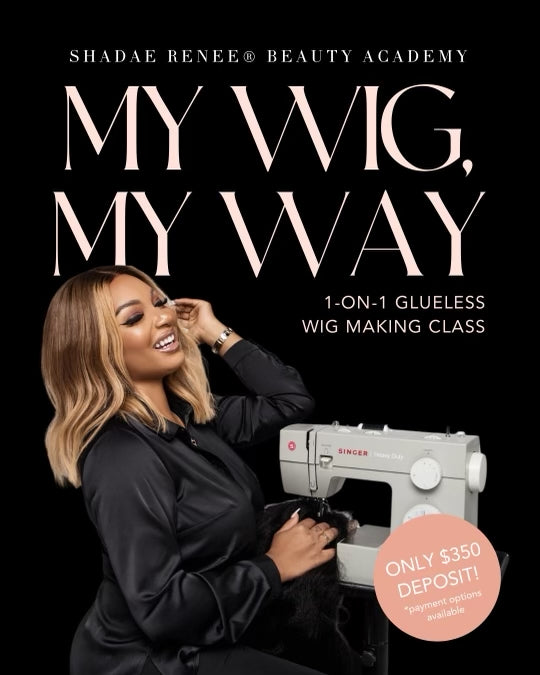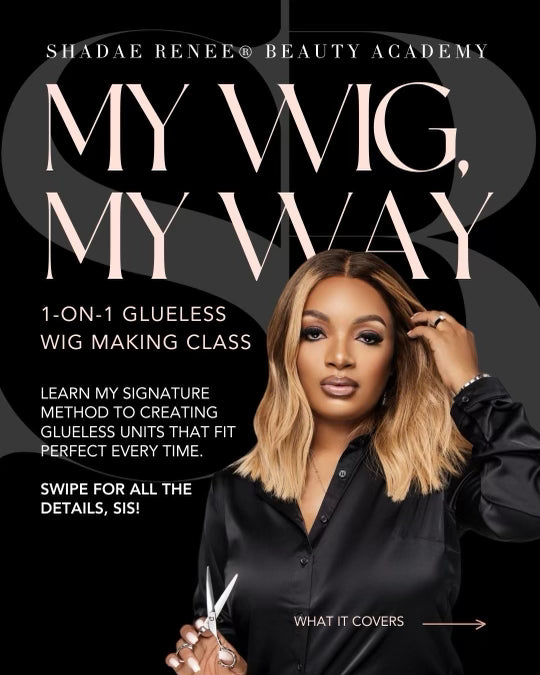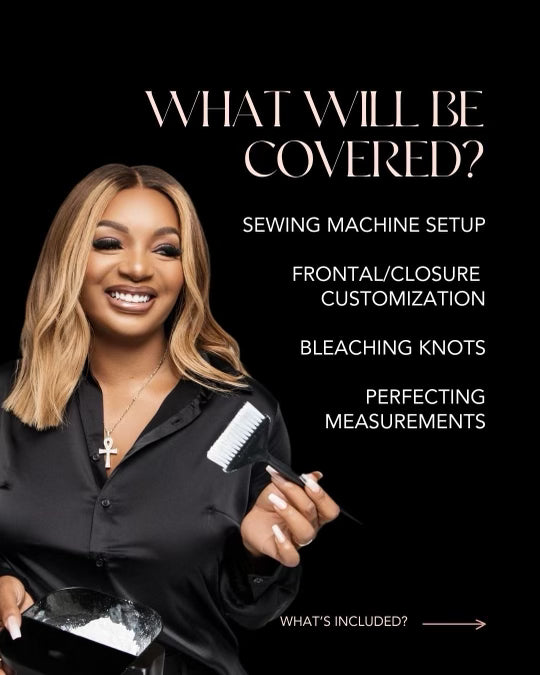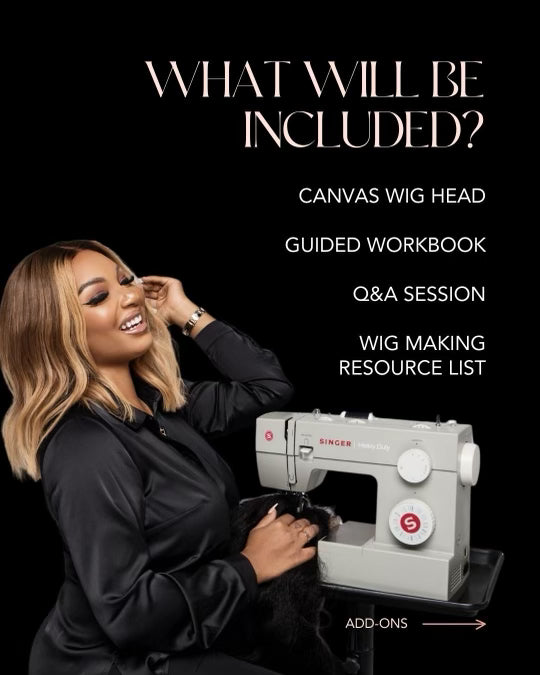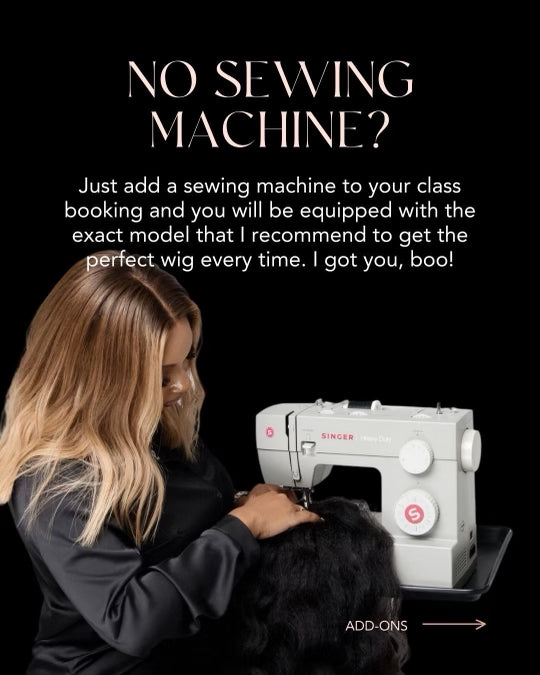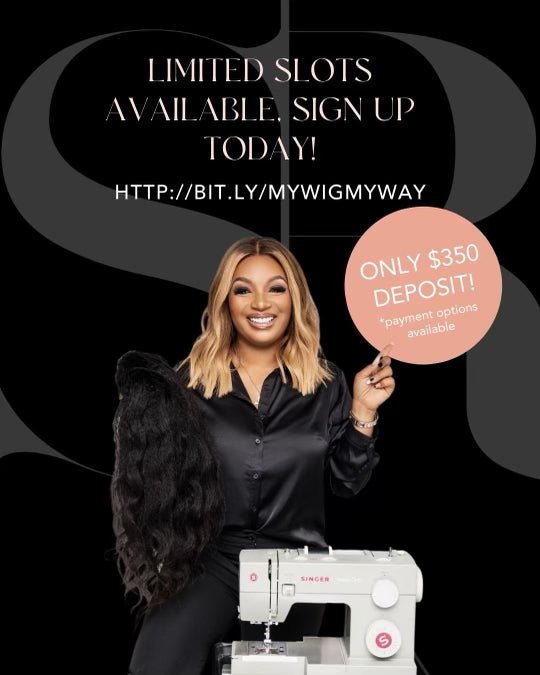 GLUELESS WIG MAKING CLASS - 1 ON 1
What if I told you I had the perfect solution to making a tailored custom glueless wig that fits in under 30 minutes?

AND YOU COULD DO IT WITHOUT: 
watching YouTube videos that purposely leave out valuable information 
making wigs by hand that take 1-2 hours to complete 
Doubting that you can make 6-figures while being a wig maker or ghost wig maker! 
Location: Atlanta, GA 

Investment: $1200
Remaining Balance : $850 to be paid with card or cash the day of class.
Time: 10:00am - 4:00 pm with a 30 minute Q/A break
Class Details:
Learn how to set up sewing machine and tips and tricks to never breaking a needle, how to properly stitch wefts to double tracks and more!
Learn how to customize your frontal or closure. In my class we thoroughly break down how to bleach knots, avoid overprocessing, tweeze the hair line and get a natural scalp appearance. This session will cover:
Bleach Preparation
Bleaching the Knots 
Shampoo + Neutralization
Knot Correction
Plucking 
Next we cover how to properly measure and construct a fully customized unit on a sewing machine. This session covers:

Blocking Measurements
Cap Placement + Adjustment
ClosurePlacement
Creating Guidelines
Sewing Machine Construction (Getting Aligned)
Sewing Machine Construction (Filling In)
Hand-stitching the Final Track + Closure Placement
Adding the Band
Extensions for Class: You will need 2-3 (NEW) bundles and a closure. You can purchase Cambodian wavy hair from us by adding to your order or bring your own.

Class Includes: Your very own canvas block head to take home with you, step by step workbook provided in class to take notes on, a list of products we use in class, and if you need us to purchase your new Singer Sewing Machine ADD TO YOUR ORDER. 
Please use an active email address to receive further details about your class.
Payment plans are available at checkout (Shop Pay, Klarna, Sezzle accepted)
Deposits are non-refundable. You are able to reschedule within 14 days of class.
QUESTIONS? Contact support@shadaerenee.com
GLUELESS WIG MAKING CLASS - 1 ON 1
FAQ
How do I know my head measurements?
Very important to know your measurements! Check out this detailed video on how Shadae Renee measures her head for her units.
What makes a wig glueless?
The proper fit and install makes it glueless. We offer elastic bands and adjustable straps in all units. The units can still be glued if you choose. We opt out of glue but making sure it fits and is installed correctly.
Are the units beginner friendly?
Our wigs are absolutely beginner friendly but we recommend getting a consultation to see which wig type is best for you!
Do we offer custom units?
Yes we do! Please email us if you have a special request. Our email is info@shadaerenee.com
Shipping
FAST SHIPPING
We have ready to ship wigs that ship out 1-5 business days and 7-14 business days for all other units that do not say ready to ship.
ORDER TRACKING
We use UPS and USPS to handle domestic and international shipping. Your tracking number will be texted and emailed to you as soon as it is done processing.
WORLDWIDE SHIPPING
We ship worldwide. Please note that any additional coutry-specific taxes and duties will have to be paid at customer expense. Contact us for questions prior to order.