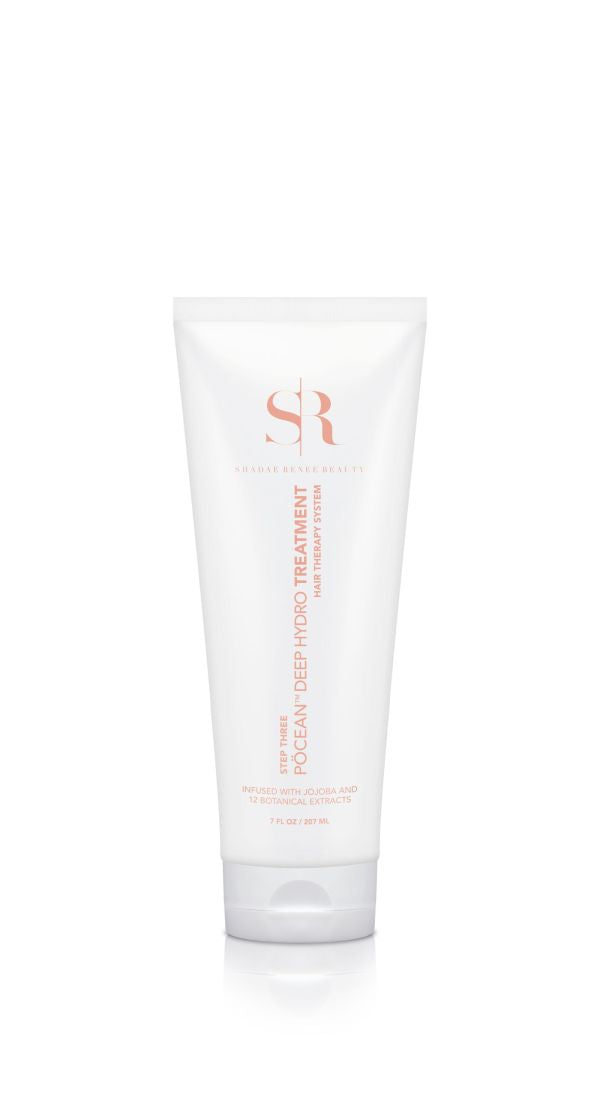 DOUSÉ DEEP HYDRO TREATMENT (NEW FORMULA)
STEP THREE:
DOUSÉ DEEP HYDRO TREATMENT
Infused with Coconut Oil
No Parabens or Sodium Chloride. Color & Straightener Safe. Vegan.
DESCRIPTION
This is the perfect deep treatment to drench your hair and hydrate from the roots to the ends. Infused with an exotic blend of Ginseng, Bamboo and Coconut Oil, which works together to create vibrancy and restore essential hydration. It will stimulate the scalp to promote healthier hair and leave your hair feeling refreshed and revitalized.
DIRECTIONS
After using Step 1 Pöcean Relief Shampoo and Step 2 Rose Relief Revitalizing Conditioner, coat your strands with the deep treatment, ensuring an even application from the mid-shafts to the ends. Leave on for the recommended amount of time 5 to 10 minutes, then rinse. For the best results, use once every 2 weeks on clean damp hair. Can be placed under the dryer for maximum benefits. Rinse thoroughly. Proceed with styling.
KEY INGREDIENTS
Bambusa Vulgaris (Bamboo) Extract - Promotes healthier, stronger hair

Caffeine - Promotes circulation and stimulates scalp

Hydrolyzed Wheat Protein - Helps repair and condition hair

Phospholipids - Hair and skin conditioner that attracts water to hair to maintains

long-lasting moisture

Tocopheryl Acetate (Vitamin B5) - Antioxidant that conditions hair and protects

against damage

Retinyl Palmitate (Vitamin A) - Increase moisture and hair body, suppleness and

sheen, and improves texture that has been

Ascorbyl Palmitate (Vitamin C) - Functions as a hair nutrient, conditioner and anti-

oxidant

Hydrolyzed Silk - Silk protein that helps bind moisture to hair, repair and

strengthen while providing a protective barrier. Adds luster, body and shine

Panthenol (ProVitamin B5) - Form of Vitamin B5 that penetrates through the cuticle

of the hair and acts as a powerful humectant that helps hair

Cocos Nucifera (Coconut) Fruit Extract - Conditions and softens hair while adding

great shine

Amino Acids: [Arginine, Aspartic Acid, PCA, Glycine, Alanine, Serine, Valine, Pro-

line, Threonine, Isoleucine, Histidine, Phenylalanine] - Amino acids are the build- ing blocks of proteins and are used to strengthen, repair and condition the hair shaft
Aloe Barbadensis Leaf Juice - Saturated with essential vitamins and minerals that help heal scalp, add sheen, luster and shine while fighting frizz and restoring hair back to proper health

Spirulina Maxima Extract - Deeply nourishes and restore hair's natural moisture balance

Rosa Canina (Dog Rose) Fruit Extract - Nutrient and scalp conditioner

Panax Ginseng Extract - Skin conditioning and promotes hair growth

Centella Asiatica (Gotu Kola) Extract - Hair strengthener and hair/skin conditioner

Cocos Nucifera (Coconut) Oil - Conditions and softens hair while adding great

shine

Rosmarinus Officinalis (Rosemary) Leaf Extract - Wonderful skin antioxidant that

helps stimulate circulation and promotes a more even skin tone. Also has anti-in-

flammatory and antimicrobial properties

Helianthus Annuus (Sunflower) Seed Oil - Naturally-derived UV protectant for hair

to prevent color fading, while also conditioning hair and adding shine
DOUSÉ DEEP HYDRO TREATMENT (NEW FORMULA)
FAQ
How do I know my head measurements?
Very important to know your measurements! Check out this detailed video on how Shadae Renee measures her head for her units.
What makes a wig glueless?
The proper fit and install makes it glueless. We offer elastic bands and adjustable straps in all units. The units can still be glued if you choose. We opt out of glue but making sure it fits and is installed correctly.
Are the units beginner friendly?
Our wigs are absolutely beginner friendly but we recommend getting a consultation to see which wig type is best for you!
Do we offer custom units?
Yes we do! Please email us if you have a special request. Our email is info@shadaerenee.com
Shipping
FAST SHIPPING
We have ready to ship wigs that ship out 1-5 business days and 7-14 business days for all other units that do not say ready to ship.
ORDER TRACKING
We use UPS and USPS to handle domestic and international shipping. Your tracking number will be texted and emailed to you as soon as it is done processing.
WORLDWIDE SHIPPING
We ship worldwide. Please note that any additional coutry-specific taxes and duties will have to be paid at customer expense. Contact us for questions prior to order.